[ Details ]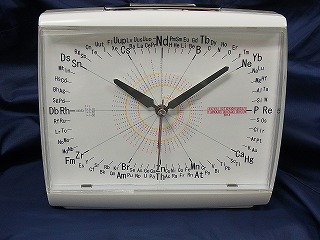 Alarm clock (Size:H128×W145×D67)
In the web site of the Royal Society of Chemistry is shown a special clock, on the dial of which are laid out in a double circle 24 atomic symbols, from H to Cr, in order of the atomic number ( see the picture below).
Inspired by the clock, our Chemistry Club members made a copy of the clock and installed it in our laboratory.
Then we went on to make another clock.
This clock had 60 atomic symbols –- H to Nd –- laid out on the dial in a circle.
Next we made a third one, which has 118 atomic symbols –- H to Uuo –- on its dial in a double circle.
Near the center of the clock is a spiral line along which are written numbers that represent the electron configuration of each atom written on the outer circles.
( Add 10, 20 or 30 to the number according to the color index. )
This clock was given as the prize to the winner of the finger-match games held in the chemistry room on April 27, 2014,
when our School Festival was held under the theme "FUNKOTSUSAISHIN or Do Your Best."
(The clock unit used: MAG T-511WH manufactured by NOA Co., Ltd)
Jul.11,2014 up.
http://youtu.be/gJIciLYTQjc